Here is the new MV of A.C.E, the other half of the Mix Nine comeback artists. It's an addicting bop. Great stuff. Hot pants, crop tops, sleeveless Byeongkwan. I think they must be gay magnets. They ship their members a lot too. Lol. But their music and image is a wholesome kind of sexy, which is fresh. I feel like they all grew up a lot since I last saw them. This carries a playful and mature vibe. I'm digging the quirky characters in the MV. I love Donghun, Byeongkwan and Sehyoon, the three members who were part of Mix Nine. Jun joined The Unit — He's okay. Well, they're all extremely talented anyway.
I thought Byeongkwan was really cool in this part.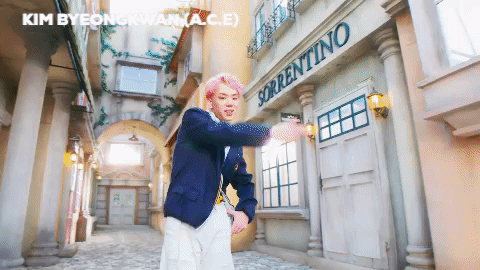 I can't wait to see A.C.E interact with ONF in music shows. I'm a Mix Nine stan through and through.